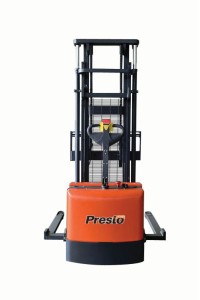 Presto Lifts announces the new and improved PowerStak PPS3000. 
Now equipped with an AC drive system and Curtis controller. A great option for servicing storage racks up to 10 feet high.
Available for shipment in 1 week
PowerStak Features:
3,000 lb. capacity @ 24″ load center
125″ lift height
42″ long forged tapered forks
AC drive system with 24V / 1.5 KW motor
Curtis Controller
2 x 12V 150 amp AGM batteries
Battery discharge indicator
115V / 20 amp internal battery charger
E-Stop emergency stop button & key switch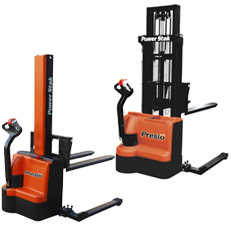 For very frequent lifting and transporting look at a fully powered electric stacker. This will speed up your operation and requires no physical effort on the part of the operator – thus preventing strains and injuries. Fully powered electric stackers can also offer a safer (and cheaper) alternative to a forklift truck. Many companies now look to limit the use of forklift trucks in busy pedestrianised areas due to the risks of forklift accidents. A walk-behind truck reduces the risks of accident and injury, and has the additional benefit of being smaller than a forklift. In warehouses and storage areas, a walk behind stacker can increase the amount of space available to you due to its smaller dimensions and large turning angle. Although basic training may be necessary, walk-behind stacker operators are not required to hold a forklift license.
Look to the complete line of Presto Fully Powered Stackers to fill you needs.
The Presto PowerStak™ is a high-performance, fully-powered stacker providing instant flexibility and versatility.  It's sleek, stylish design, low overall weight, and quiet operation allow the PowerStak to fit nicely into a wide variety of work environments including:
Warehouses

Loading Docks

Light Assembly Work Cells

Retail Sales Floors
Four PowerStak models are available to satisfy just about any requirement including servicing racks up to 10 feet high.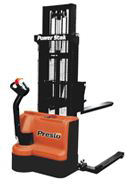 Presto Lifts has added a Heavy Duty 3000 lb capacity PowerStak to it's growing line of fully powered stackers. The new model comes with adjustable straddles and a raised height of 125″. Tandem polyurethane load wheels on the outriggers easily handle the added capacity.
Other features include:
24 volt DC/1000 watt drive motor

10″ x 4″ polyurethane load wheels

Adjustable forged steel forks, 4″ wide x 2″ thick x 42″ long

2×12 volt 150 amp/hr batteries

25 amp internal 115V charger

Hour meter with battery discharge indicator

E-Stop emergency stop switch

Safety key switch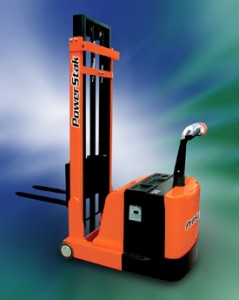 POWERED STACKER IDEAL FOR TIGHT SPACES
The versatile, fully powered PowerStak™ Counterbalance Stacker from Presto Lifts Inc. works with any style pallet or skid and is ideal for servicing racks, loading/unloading trucks, feeding machinery, and other applications where straddle legs could get in the way. With a load capacity of 1100 pounds, a load center of 15", and a lift height of 62", the unit has a short yet stable wheel base to maximize maneuverability in tight quarters on uneven floors and ramps. The tilt of the mast is adjustable. Overall height is 82", overall width 32". The forks are each 3" wide and 30" long. The PowerStak Counterbalance Stacker is loaded with ergonomic features. The ergonomically designed handle puts all controls within easy reach for maximum operator comfort and convenience. Forward- and reverse-drive "thumb" switches are located on both sides of the handle to accommodate left-hand or right-hand operation. An auto-reversing "belly bump" switch protects operators from potential injury when walking the unit backwards, while an automatic brake immediately halts travel when the stacker is reversed. The polyurethane drive wheel is fully shrouded to protect the operator's feet. Power is achieved via two maintenance-free 12-volt batteries. A 110-volt built-in charge is also a standard feature. Options include load backrests, a deep-cycle battery, and forged forks.