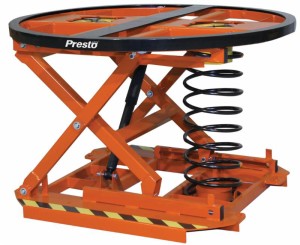 INTRODUCING THE ALL NEW PRESTO P3-SPRING FULLY AUTOMATIC PALLET POSITIONER
P3-SPRING Features
Load height adjusts automatically
Spring actuated – No power required
Low-friction turntable
Efficient Compact Design
Stable base – No lagging required
Fork pockets for easy relocation
Includes; Set of 3 calibrated springs
Handles loads from 400 lbs to 4,500 lbs
The P3-SPRING Level Loader from Presto Lifts improves the efficiency of manual pallet loading and unloading jobs by eliminating bending, stretching, and walking around the pallet.
Heavy-duty calibrated springs lower or raise pallets as boxes are added or removed. The anti-friction turntable top lets workers stand in the same position throughout the loading and unloading process.
The P3-SPRING is designed so that its base and all components fit within the diameter of the turntable ring. This allows workers to stand up close to the unit at any position around the ring with no obstructions to reach over.

Follow @mkt_prime