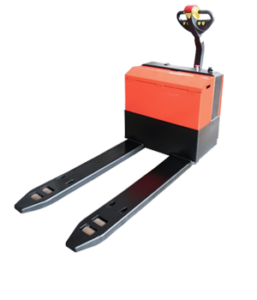 Presto Lifts introduces their new PowerJak™ powered pallet truck.
PowerJak™ Electric Pallet Trucks feature powered lift and powered drive for effortless transport of pallet loads. They are more convenient and easier to use than hand pallet trucks and far more economical than ride on devices.
Two Models of PowerJak Electric Pallet Trucks are available. The PPJ3000 is a standard-duty 3,000 lb. capacity unit and the PPJ4500 is heavy-duty 4,500 lb. capacity unit.
Ergonomic handle with redundant controls for left- or right-hand use
Variable speed forward and reverse with Turtle Speed
Automatic brake engages to halt travel if handle is released
Heavy-duty reinforced steel forks have 24″ load center
24 Volt drive and lift motors provide ample power
Dual, articulating casters roll easily on uneven surfaces
Battery indicator provides charge status at a glance
Hour meter simplifies maintenance scheduling
Follow @mkt_prime