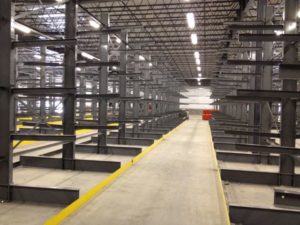 Increase your storage capacity with a Cogan Very Narrow Aisle Cantilever Rack System.
If you're looking to increase your storage capacity within your existing facility or moving your operation into a new facility, A Cogan Very Narrow Aisle (VNA) Rack Storage System may be the solution for your storage needs.
With a (VNA) System the aisle space between the rows of rack are greatly reduced and the stored product is retrieved using a specialized side loading fork lift. With the size of the aisles minimized, usually around 40%, storage space utilization can yield you an increase of between 45 to 50% compared to traditional rack layouts.
VNA storage systems typically use floor guides in the aisles and on the end of aisles. These rails work to guide the narrow aisle fork trucks through the pick aisles, allowing for a faster, easier and more efficient picking operation. The guide rails can be inserted into the rack base or anchored to the floor, independent of the rack structure. The end of aisle rails are welded on either end of the row to protect the entrance of each aisle allowing the fork lift driver to safely navigate around corners. Both types of guide rail are welded on site for a precise fit creating a solid, continuous guide rail.
Follow @mkt_prime