A visible difference in storage & organization! Akro Mils InSight® Ultra-Clear Bins provide easy and maximum visibility to users in a sleek, modern design. These clear hang and stack bins are constructed of super-tough polycarbonate and are autoclavable for use in medical applications. Optional lids protect contents from dust — will stack with lids in place. Optional clear length and width dividers available. Perfect for a variety of settings — from industrial to healthcare!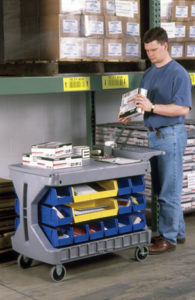 The ProCart from Akro-Mils
Hinged side gates on both shelves flip up or down to convert the structural foam ProCart to a flat-top or a box-top cart. Compared to ordinary "four post" carts, loading and unloading boxes on the ProCart's lower shelf is a snap with its I-Beam design. Each shelf holds 200 lbs., adding up to a 400-lb. maximum payload.
Our optional nine-rail system and interchangeable AkroBins® (sold separately) offer the ultimate solution in mobile storage and organization!
Watch the Akro-Mils ProCart Video below.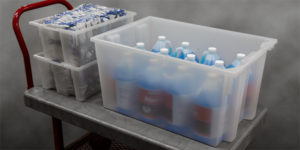 As you plan your shipping, transfer and storage options, Akro-Mils Nest & Stack Totes. These durable totes stack with or without lids, and nest when empty.
Now available in 9 sizes and 4 colors, including Clear.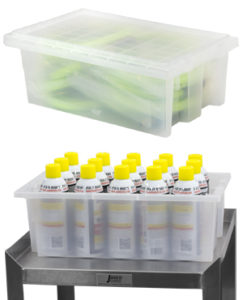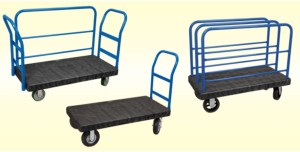 Transport large and heavy loads more securely with Akro-Mils' ULTRA/Deck™.
These heavy-duty structural foam platform trucks are ideal for transporting materials up to 3,000 lbs.
This platform truck from Akro-Mils is heavy-duty! Steel reinforcements and extra structural foam ribs under the deck add strength and stability for your customers' toughest loads. Multiple handle, deck and caster options are available. The sturdy, non-stick deck won't rust, dent or chip!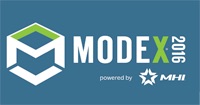 Prime Alliance Marketing is going to the Modex show in Atlanta, GA in early April 2016.
Here's a list of who we have showing and their booth numbers:
As always we hope to run into many dealers from New England at the show. Please stop into the booths and say hello.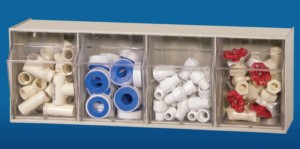 Akro-Mils' TiltView® Titling Bins offer uses an expandable, high-density storage system that will improve organization and efficiency!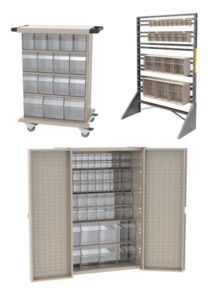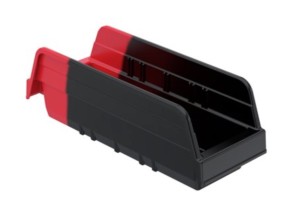 Effective inventory control at a glance! Akro-Mils' two-toned Indicator® Bin is a single-bin Kanban system featuring a colored trigger side to indicate low inventory and prevent stock-outs and assembly line interruptions. Never run out of inventory! Easy to Use! Available in Black/Red and Blue/Orange.
• STOCK the Indicator Bin using the divider to designate volume for the inventory reserve.
• PICK from the blue side of the bin until you reach the divider.
• FLIP the bin to the orange to indicate low stock.
• REFILL the bin and repeat!
Eliminate the need for a two bin Kanban system!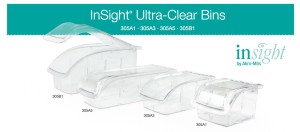 Akro-Mils InSight Ultra Clear Bins allow you to easily and conveniently store supplies to improve overall efficiency.
With a smooth, contoured, streamlined design, InSight Ultra Clear Bins are the durable, modern storage solution for a wide variety of settings. Hospitals, laboratories, Supply Rooms, Retail Spaces and offices will all benefit from InSight Bins.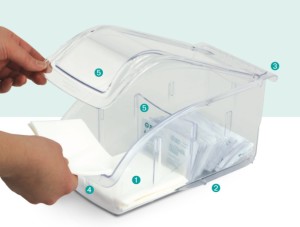 Transparent, autoclaveable polycarbonate material provides maximum visibility and easy identification of supplies
Unique "lock-in-place" design optimizes valuable storage space by allowing bins to be securely stacked, even with lids in place
Strong molded hanger easily hook onto rails or louvered panels for added storage versatility.
Convenient labeling area designated on large smooth surface
Optional lids and dividers help keep supplies clean, protected and further organized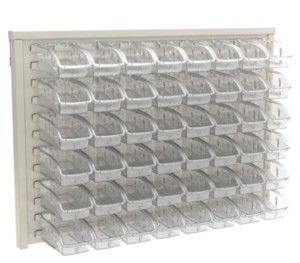 ReadySpace Storage Systems or Louvered Panel Units 
The ReadySpace® Storage System helps organize storage space virtually anywhere! This steel louvered system – Wall Units and Mobile Floor Units – is perfect for hospitals, laboratories and of ces. Quick and easy to assemble, ReadySpace creates a neat, attractive space in any environment. Sixteen-gauge steel Louvered Panel Units allow for easy placement and con guration of InSightTM bins. Easily installed with one-person assembly, these wall-mounted panels keep items out
of the way and off the floor.