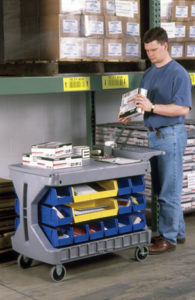 The ProCart from Akro-Mils
Hinged side gates on both shelves flip up or down to convert the structural foam ProCart to a flat-top or a box-top cart. Compared to ordinary "four post" carts, loading and unloading boxes on the ProCart's lower shelf is a snap with its I-Beam design. Each shelf holds 200 lbs., adding up to a 400-lb. maximum payload.
Our optional nine-rail system and interchangeable AkroBins® (sold separately) offer the ultimate solution in mobile storage and organization!
Watch the Akro-Mils ProCart Video below.
Follow @mkt_prime